Sale!
Ted Nugent Lures Combo (3 Pack) 6oz
$33.00
Ted Nugent lures (3 Pack)
10 in stock
Description
Ted Nugent Combo 3 Pack of lures. Three 2oz bottles
You get all 3 incredible lures, Dominant Buck, Hot Doe and Curiosity. With this 3 pack you save a few buck$ and have everything you need to kill BIG Bucks!
Use each lure individually or use the Doe and Buck lure to make amazing scrapes, also try soaking and hanging two separate scent wicks, one Buck and one Hot Doe, Very effective!
Don't forget about the always amazing drag rag or under boot spray!
Our deer lures have No preservatives. 1 year shelf life. Store in refrigerator or keep in cool dark location.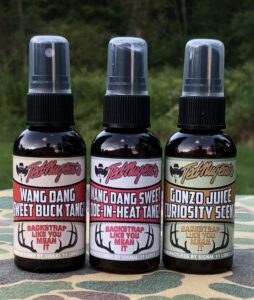 Three 2oz spray bottles.