You cannot add "Sweet Dreams Bear Gel (w9)" to the cart because the product is out of stock.
Ted Nugent Dominant Buck (2oz)
$11.00
Ted Nugents Buck Lure (Dominant Buck Scent) 2 oz
489 in stock (can be backordered)
Description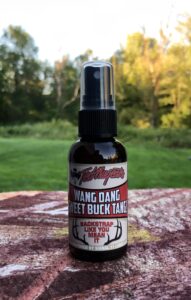 Ted Nugent Wang Dang Sweet Buck Tang.
This is a blend of dominant Buck urine blended with tarsal gland.
This lure will bring out the big boys to check out which Buck is intruding on their territory. Great Pre-Rut, Peak Rut, and in scrapes.
Our deer lures have No preservatives. 1 year shelf life. Store in refrigerator or keep in cool dark location.
Dominant Buck Scent 2 oz