Lip Glu Sticky Gel Fish Attractant
$6.99
Lip Glu Sticky Gel 2oz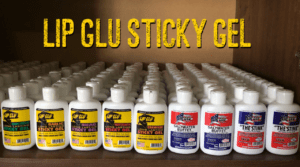 Description
Drive Fish CrAzY with Lip Glu sticky gel fish attractant! 
( Scents for fresh and saltwater )
A little of our attractant goes a long way and sticks and penetrates natural and artificial lures.
Very powerful scent that drives fish crazy. Great easy to use no mess bottle. Our gels are partial water soluble and oil based in the same bottle! This creates the absolute best scent trail and fish hammer it and hold on! That is why we named it Lip Glu No its NOT actual glue.  
***All of our gels are UV enhanced.
2 ounces of sticky gel attractant in a no mess easy to use bottle. 
These are the HOTTEST Fish Attractants on the market. 
Our Success depends on your success!  
Additional information
| | |
| --- | --- |
| Weight | N/A |
| Scent | Crawfish, Garlic, Lunker Buster, Nightcrawler, Saltwater Buffet, Shad, The Stink |