Sweet Dreams Bear Gel (w9)
$16.00
Sweet Dreams Bear Gel 9 oz weight, 6 oz volume.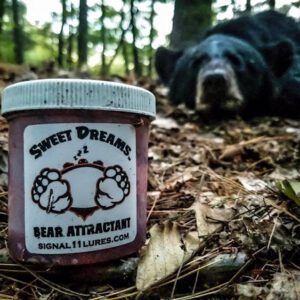 14 in stock
Description
THIS IS THE SHIT! "Sweet Dreams" Bear Attractant Gel is by far the BEST bear attractant on the market!
It is an excellent bait site starter, stand alone Bear attractant or turbo charge your bait piles .
It is a super sweet paste that is KILLER for attracting Bears! It sticks to branches, tree bark, stumps rocks or any where you put it! It holds up in all weather, even rain!
The scent keeps emitting for many days and travels long distances bringing in Bear from far away!
Better than Anise, Bear urine, Sow in heat, Doughnuts, etc…!
Its easy to carry into your hunting site and spread. Just grab a stick and smear Sweet Dreams aprox 5′ off the ground on a tree. Some hunters bring a single rubber surgical glove in and spread it on tree then roll the glove off inside out and your clean.
Trust me, you wont need to use any other Bear attractant besides Sweet Dreams, its that good! (Aprox 6 oz) plenty for a few hunts or bait sites.